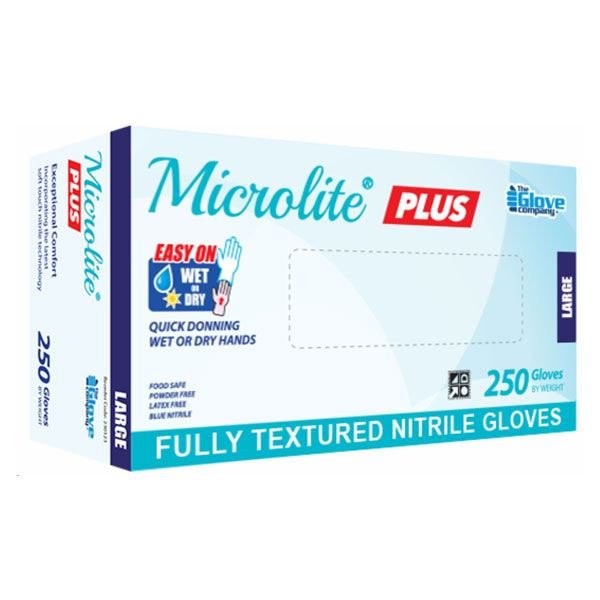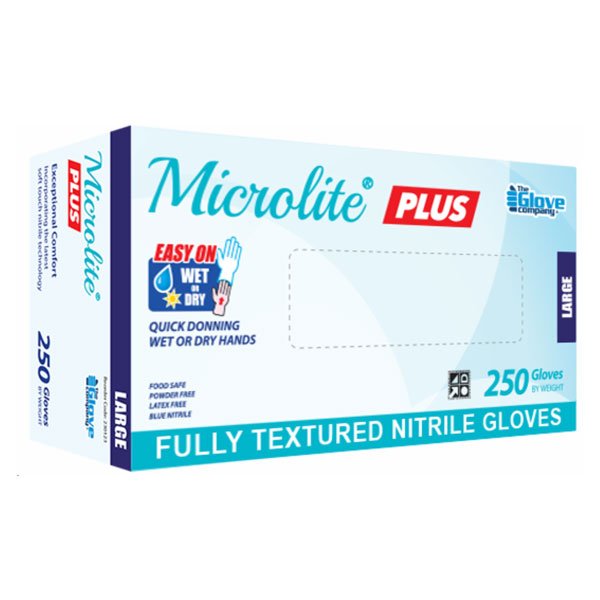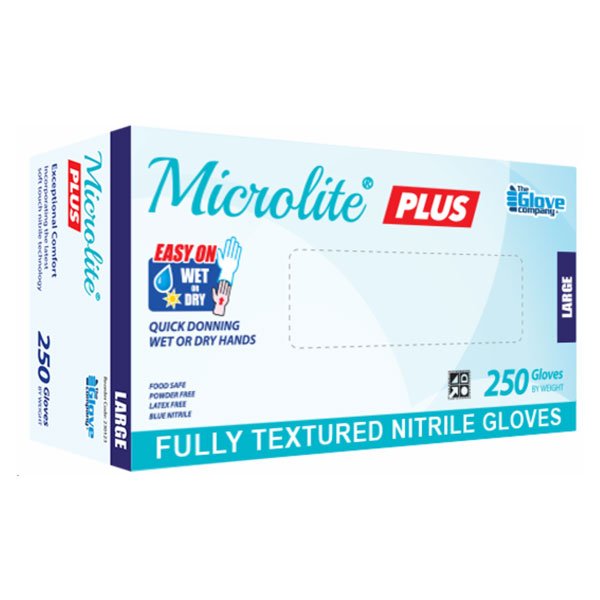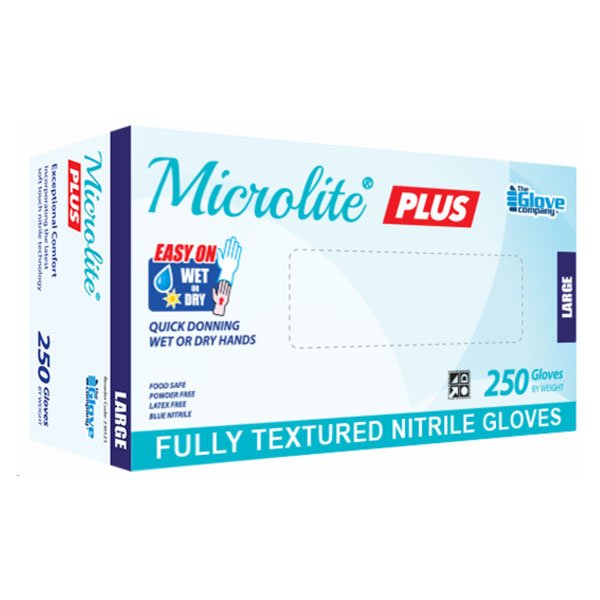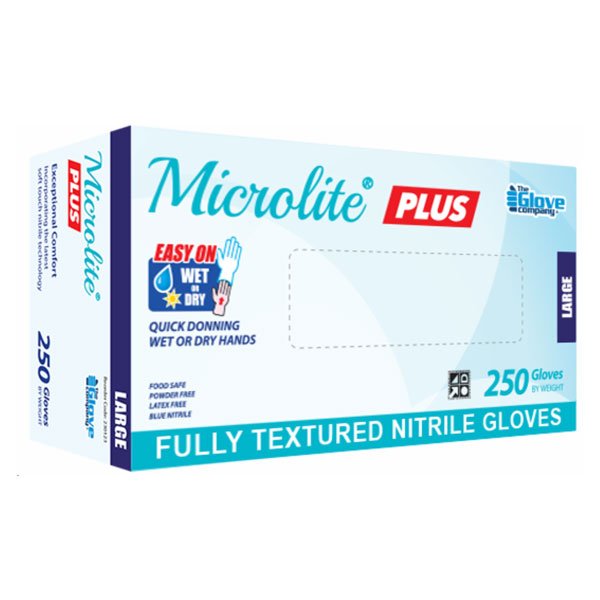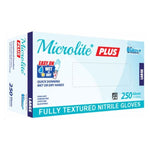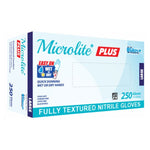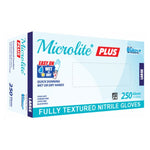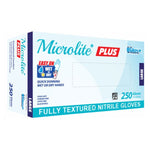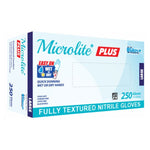 Image for Illustrative Purposes Only

TGC Microlite Plus Disposable Gloves, Box of 250
SKU:
TGC230121
DESCRIPTION
Features
Applications
Benefits
Size Options
Shipping & Delivery
TGC Microlite Plus Disposable Gloves, Box of 250
Perfect for damp, wet or sweaty hands.
All the same amazing features as Microlite ®, PLUS even more.
Microlite ® PLUS features the latest glove film treatment technology, EASY ON.
Whether you have Dry hands, Hot Hands, Damp Hands, Sweaty Hands or Wet Hands, it won't matter anymore! Because with EASY ON Technology the glove is easy to put on, no matter what.
Microlite ® PLUS is FULLY TEXTURED from finger tips to cuff, giving you a super lightweight easy donning fully textured glove.
The soft nitrile material is gentle on the skin minimizing the risk of allergic reaction and ensuring donning the gloves is easy and smooth without tearing.
Microlite ® PLUS Disposable Gloves are Food Safe with FDA approval and they are HACCP Food Safety Certified.
Discover the TGC Microlite Plus Disposable Gloves, Box of 250 at Mektronics Australia – your trusted source for quality tools and equipment!
Brand New Technology - The only glove with EASY ON Technology.

Unrivialled Comfort - Soft textured outer, silky inner, the glove just slides on.

Ultimate Efficiency - Saves the end user time, saves the purchaser money.

Value Packed Boxes - 250 disposable gloves per box.
Perfect for Busy Hospitality Environments.

Food Manufacturing Processes.

Food Safety Procedures.

Waste Management.

Manufacturing.

Cleaning.

Production.

Safe Food and Beverage handling in sensitive environments such as Child Care, Hospitals and Medical Facilities.
100% Nitrile

Fully Textured

High quality nitrile for less than irritable latex

Food Safe with FDA approval & HACCP (International food safety certification)

Meets ATSM D6319 for medical Exam use

Extremely Fine Dexterity

Latex Free, Vinyl Free, Powder Free, MBT Free
TGC230121 - S

TGC230122 - M

TGC230123 - L

TGC230124 - XL
SHIPPING

A delivery and handling charge applies to all orders with the exception of back-ordered items.

Unless otherwise required by Buyer, Seller will make transport arrangements as follows:
For deliveries within the metropolitan areas of mainland State capital cities a standard freight charge may be added to invoice; goods

For delivery outside those areas, seller will select the transport to be used and prepay freight for Buyer. Seller will then bill Buyer for freight at Seller's discretion.

Should the Buyer request goods be sent to a Post Office box the Buyer acknowledges this method is the only available and therefore the Seller is not liable for undelivered goods.

Free shipping on orders over $199 incl GST (valid for 1 delivery per order and excludes NT, WA & TAS). If only part of the order is in stock, the customer has the option of paying for a second delivery if they require a partial shipment prior to all goods becoming available. Mektronics Australia reserves the right to charge additional freight in the event of hazardous, bulky or heavy items ordered.
DELIVERY TIME
All quoted delivery or consignment dates are estimates only, given without engagement.
Delay in consignment of any part of an order shall not relieve Buyer of its obligation to accept and pay for the remainder of the order.
Except as provided in paragraph 1.2 of Terms & Conditions, seller will not be liable to pay damages or compensation for any injury or loss sustained by Buyer

a) in the event of a delay in consignment or delivery of goods: or

b) in the event of non delivery.

Goods offered ex-stock by Seller are subject to prior sale.

In the event of any happening beyond Seller's reasonable control in consequence of which Seller cannot effect consignment by the time or times quoted or specified, Seller shall be entitled to consign part only of an order, suspend consignment or extend the time for consignment, for the period during which such cause of delay operates, or may cancel the order, and in the event of such suspension, extension or cancellation, Seller shall not be liable for damages.