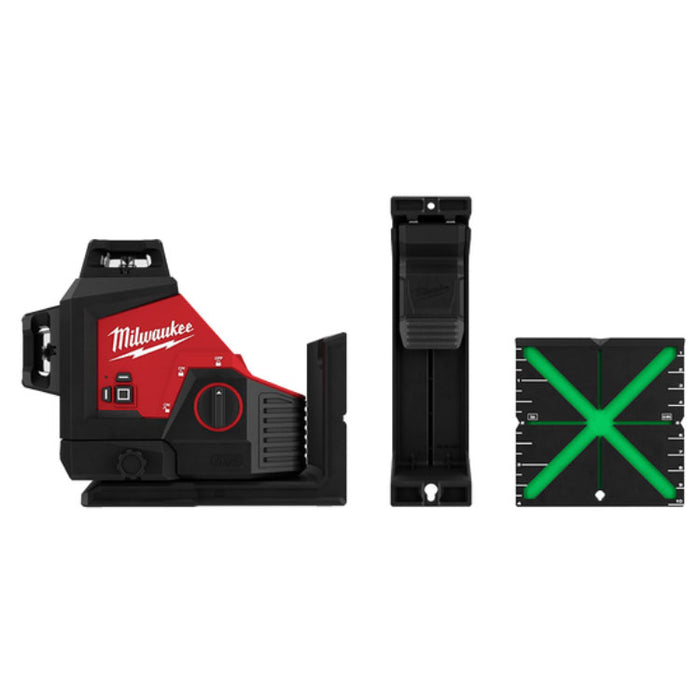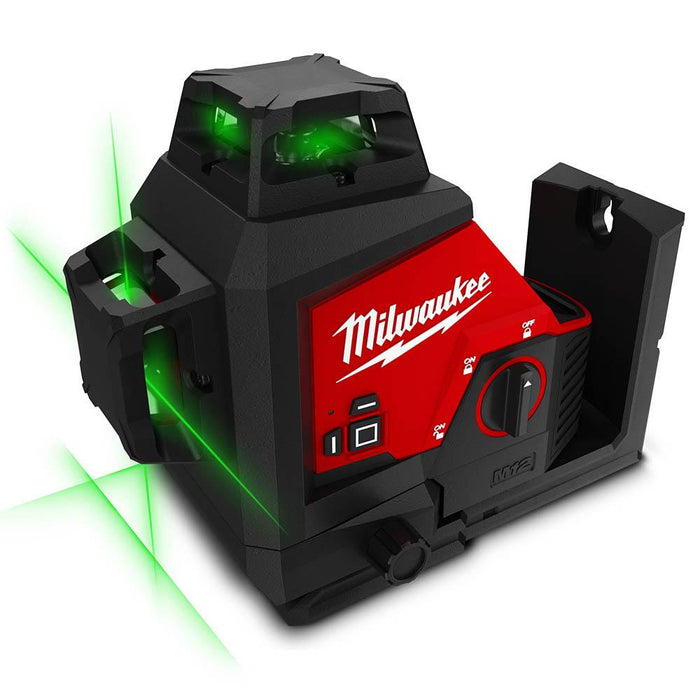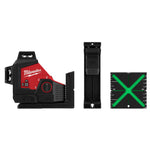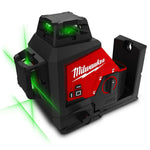 Image for Illustrative Purposes Only

Milwaukee M12™ 3 Plane Laser (Tool Only)
SKU:
MILM123PLA-0C
M123PLA-0C
DESCRIPTION
Features
Includes
Specifications
Shipping & Delivery
Milwaukee M12™ 3 Plane Laser (Tool Only)
The M12™ 3 Plane Laser provides an all-in-one functionality with one horizontal line and two vertical lines for fast and easy alignment, leveling, squaring, and transfers allowing you to easily layout large spaces with one tool. Powered by our M12™ batteries, users will get 15 hours of continuous run-time with a M12B4 battery pack for ultimate productivity. The high-intensity green laser offers users superior visibility up to 38m for long-range applications. The integrated bracket features a micro control and pivots on plumb point for easy and fast alignment. The M12™ 3 Plane Laser features amplified rare earth magnets, providing a strong hold onto metal surfaces with the integrated screw and nail hang holes allowing easy and efficient setup in any environment.
NOTE: TOOL ONLY - BATTERY & CHARGER NOT INCLUDED
Discover the Milwaukee M12™ 3 Plane Laser (Tool Only) at Mektronics Australia – your trusted source for quality tools and equipment!
15 hours of runtime on a single charge using M12™ REDLITHIUM™-ION 3.0Ah battery

Visibility range of up to 38 m

High intensity green beams provide up to 4x the brightness compared to red lasers

1 m drop rating

IP 54 rating to protect the laser from harsh jobsite conditions

3 mode pendulum system: Manual Mode for use at any angle, Self-Levelling Mode that indicates out-of-level condition with a 4° self-levelling range and Pendulum Lock Mode to protect components during transport

330° rotation that pivots on plumb point, with an integrated micro control knob for faster point to point alignment

Fuel gauge on the top and side of the laser allows for fast checking of battery charge

Integrated magnetic bracket with rear mounted amplified rare earth magnets, 1/4" and 5/8″ tripod thread and hang hole allows for attachment to steel stud, wooden stud and tripod (48351411)
M12™ 3 Plane Laser (M123PLA)

Laser Track Clip with Quick Connect (48351313)

Laser Target (48351111)

Carrying Case
PLATFORM: M12™

IP RATINGS: IP54​

DIMENSIONS: 198 x 104 x 165 mm​

WEIGHT: 1.09 kg​

WARRANTY: 3 Years

NUMBER OF BEAMS: ​3 Plane​

LOCKING PENDULUM: ​Yes​

SELF-LEVELING​: ± 4° Tilt​

ACCURACY: ± 3.18 mm over 10 m​

IMPACT RESISTANT​: 1 m​

WORKING RANGE​: 38 m​

RANGE WITH DETECTOR​: 50 m​

THREAD MOUNT: ​1/4"-20, 5/8"-11​
SHIPPING

A delivery and handling charge applies to all orders with the exception of back-ordered items.

Unless otherwise required by Buyer, Seller will make transport arrangements as follows:
For deliveries within the metropolitan areas of mainland State capital cities a standard freight charge may be added to invoice; goods

For delivery outside those areas, seller will select the transport to be used and prepay freight for Buyer. Seller will then bill Buyer for freight at Seller's discretion.

Should the Buyer request goods be sent to a Post Office box the Buyer acknowledges this method is the only available and therefore the Seller is not liable for undelivered goods.

Free shipping on orders over $199 incl GST (valid for 1 delivery per order and excludes NT, WA & TAS). If only part of the order is in stock, the customer has the option of paying for a second delivery if they require a partial shipment prior to all goods becoming available. Mektronics Australia reserves the right to charge additional freight in the event of hazardous, bulky or heavy items ordered.
DELIVERY TIME
All quoted delivery or consignment dates are estimates only, given without engagement.
Delay in consignment of any part of an order shall not relieve Buyer of its obligation to accept and pay for the remainder of the order.
Except as provided in paragraph 1.2 of Terms & Conditions, seller will not be liable to pay damages or compensation for any injury or loss sustained by Buyer

a) in the event of a delay in consignment or delivery of goods: or

b) in the event of non delivery.

Goods offered ex-stock by Seller are subject to prior sale.

In the event of any happening beyond Seller's reasonable control in consequence of which Seller cannot effect consignment by the time or times quoted or specified, Seller shall be entitled to consign part only of an order, suspend consignment or extend the time for consignment, for the period during which such cause of delay operates, or may cancel the order, and in the event of such suspension, extension or cancellation, Seller shall not be liable for damages.